RTP Reinforced Pipe Extrusion Line
Suzhou Jwell Machinery Co., Ltd. developed and manufactured "Reinforced Thermoplastic Pipe (RTP) Pipe Extrusion Line", which introduces advanced manufacturing technology and techniques from home and abroad and provides more optimized solutions for continuous and stable production and intelligent operation of equipment.
JWELL Reinforced Thermoplastic Pipe (RTP) Extrusion Line Features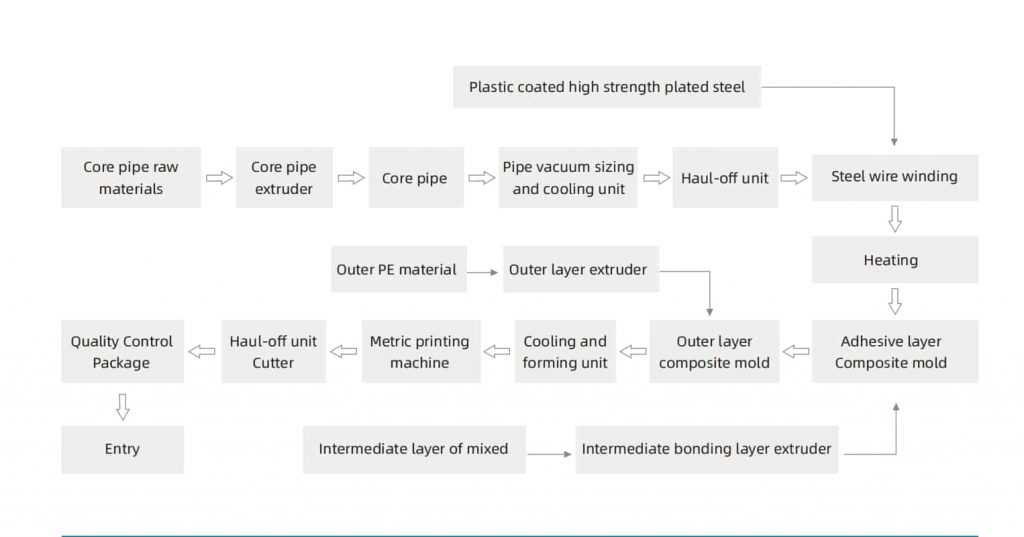 1. Base pipe production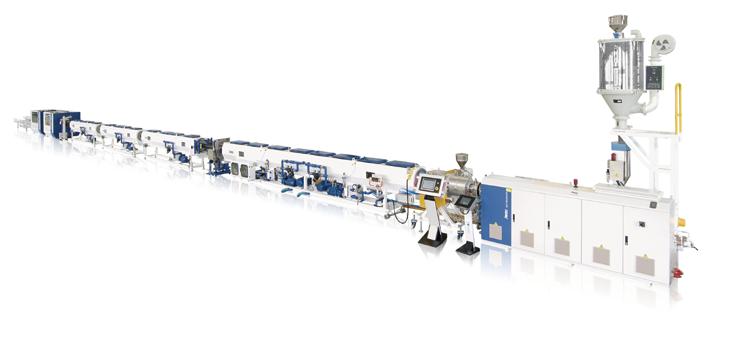 2. Base pipe winding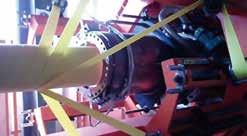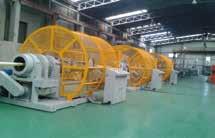 3. Product Coating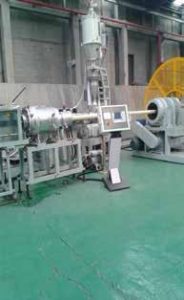 4. Finished pipe cooling and haul-off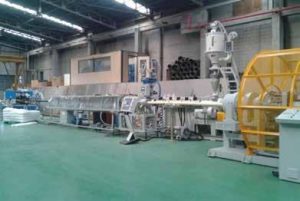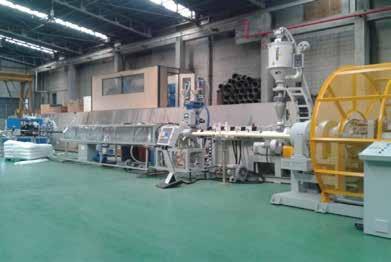 5. The production line adopts a professional plastic machinery control system with humanized design; Siemens series PCL, equipped with HMI display, convenient operation, and precise control.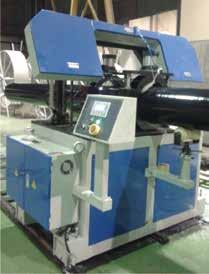 Nominal Diameter(mm)
Nominal pressure(Mpa)
Delivery Method
Pipe length
DN50
3.5
Coil delivery

or straight pipe delivery upon request

Customized according to customer requirements
DN63
3.5
DN75
3.5
DN90
3.5
DN110
1.6/2.5/3.5
DN160
1.6/2.5/3.5
Direct Pipe Delivery
Generally 6m, 9m and12m
DN200
1.6/2.5/3.5
DN250
1.0/1.6/2.0/2.5
DN315
1.0/1.6/2.0/2.5
DN400
1.0/1.6/2.0/2.5
DN500
1.0/1.6/2.0/2.5
DN630
0.8/1.0/1.6/2.0
6. Winding and installation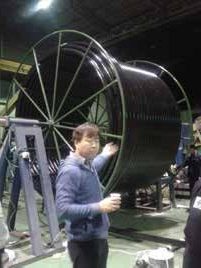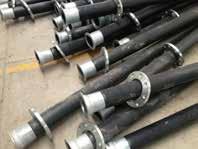 RTP pipes of various reinforcement materials




Reinforced thermoplastic pipe (RTP) is divided into three main layers: a polymer liner, a reinforcement layer, and an outer sheath layer. The reinforcement layer is made of aramid fiber, polyester fiber, etc. The inner and outer layers and the middle layer are independent of each other.
There are several kinds of RTP pipe based on different kinds of reinforced material
1. Polyester tape-reinforced RTP pipe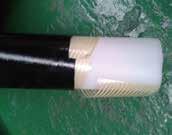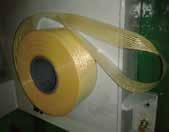 2. Aramid (nylon) fiber tape-reinforced RTP pipe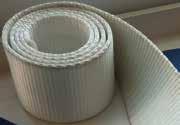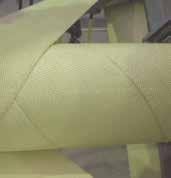 3. Glass fiber tape reinforced RTP pipe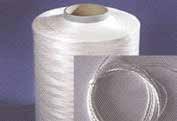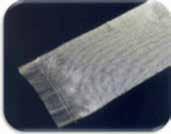 4. Steel wire rope covered with plastic tape-reinforced RTP pipe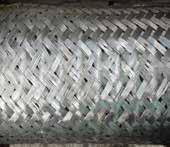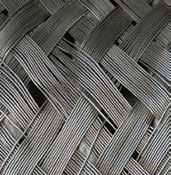 JWELL Group is the vice president unit of China Plastic Machinery Industry Association, a plastic machinery extrusion line manufacturer with 20 subsidiaries, located in 8 manufacturer bases in Jia ding district of Shanghai, Tai Cang City, and the Liyang City of Jiangsu Province, Fo shan City of Guangdong Province, Hai Ning and the Zhou shan City of Zhejiang Province, Chu zhou City of Anhui Province and Thailand, with more than 3,000 employees.
Suzhou Jwell Machinery Co., Ltd. is an important development strategy center and manufacturing basement under the JWELL GROUP. It is located next to National Highway 204 in Tai Cang, near Shanghai and Kun shan, with convenient transportation. Now there are more than 400 acres of standardized workshops, more than 1000 employees, a large metal processing workshop, and a heat treatment and nitriding workshop. We mainly produce and manufacture: Plastic Plate and Sheet Extrusion Lines, RTP reinforced pipe extrusion lines; Polymer Waterproof Membrane Production Lines; Plastic Pipe Extrusion Lines; Profile Equipment Production and Manufacturing.
Verified onsite by world-leading inspection company Bureau Veritas on ALIBABA.com