Pallet Blow Molding Machine Control system
1. Control system
B&R Austria's human-machine interface and parison programmer can adjust within 300 points.
2. Extrution & Die head
The extruder uses screws and barrels, which is a famous brand all over the world. It has advantages such as high output, smooth plasticization, wearable, and long life. The gearbox is the kind of product specially used for plastic extrusion.
3. Take out system
Finished product take-out robot
4. Hydraulic system
The hydraulic system adopts Servo motor-oil pump control technology, Servo controller, and SUMITOMO low-noise gear pump, it has the features of quick response, energy saving, and low calorific value. This controller can save more than 50% more energy than common ones.
JWZ-BM500/1000 Single Face Pallet Blow Molding Machine
Suitable for producing different kinds of pallets
Optional bottom sealing, product eject,core-pulling movement elements
Adopt high output extrusion system, accumulating die head
Hydraulic Servo control system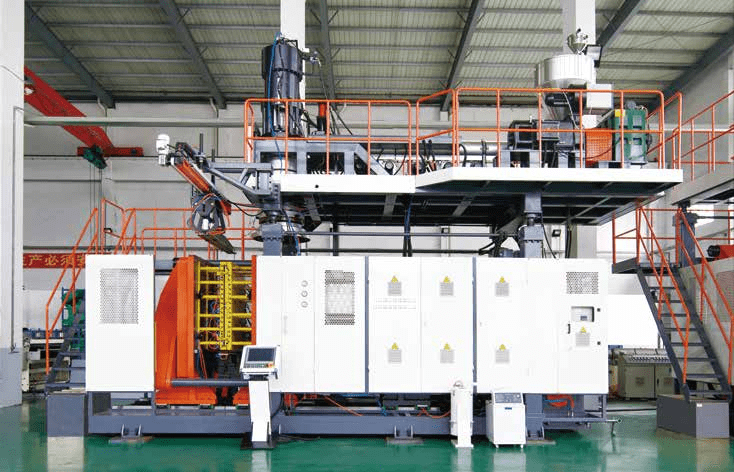 Technical parameters
Model
Unit
BM500
BM1000
Die head structure
Accumulating type
Main screw diameter
mm
120
135
Max plasticizing capacity (PE)
kg/h
350-450
550-650
Driving motor
Kw
132
160
Accumulating volume
L
45
45
Oil pump motor power
Kw
54.5
54.5
Clamping force
KN
1200
1200
Max space between platen
mm
750-1950
750-1950
Platen size  W*H
mm
1600*1600
1600*1600
Max.mould size
mm
1400*1600
1400*1600
Heating power of die head
Kw
57.4
57.4
Machine dimension L*W*H
m
9.6*5.6*6.5
9.6*5.6*6.5
Machine weight
T
45
45.5
Total power
Kw
265
294
Note: The information listed above is for reference only, the production line can be designed according to customers' requirements
JWZ-BM2000/2000F Double Face Pallet Blow Molding Machine
Suitable for producing different kinds of pallets
Optional bottom sealing, product eject,core-pulling movement elements
Adopt high output extrusion system, accumulating die head
Hydraulic Servo control system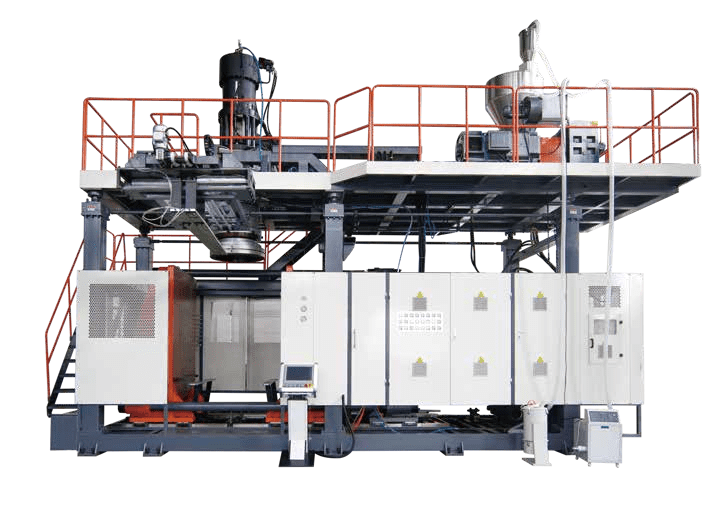 Technical parameters
Model
Unit
BM500
BM1000
Die head structure
Accumulating type
Main screw diameter
mm
150
120*2
Max plasticizing capacity (PE)
kg/h
750-850
800-900
Driving motor
Kw
185
132*2
Accumulating volume
L
75
120
Oil pump motor power
Kw
54.5
54.5
Clamping force
KN
1200
1300
Max space between platen
mm
750-1950
750-1950
Platen size  W*H
mm
1600*1800
1600*1800
Max.mould size
mm
1400*1800
1400*1800
Heating power of die head
Kw
79.6
101
Machine dimension L*W*H
m
10.2*8.6*7.3
12*9.5*7.8
Machine weight
T
50
62
Total power
Kw
365
480
Verified onsite by world-leading inspection company Bureau Veritas on ALIBABA.com